We hope that you find our page on "The Black Report" interesting. You might also like to read our latest blogposts on equality here.
The publication of the Black Report over the Bank Holiday Weekend of 1980 by the Thatcher Government signalled the end of the hopes of improvement in public health for twenty years. It was clear that the Government would have preferred to suppress the whole thing, and it is greatly to the authors' credit that this did not happen. However you do not need to read very much to see why the Conservatives wanted to suppress it. Redistribution, increased public expenditure and taxation and unashamed socialism are flaunted on almost every page.
Virginia Berridge has given an account of how the report was set up and how the report was written and published THE BLACK REPORT: INTERPRETING HISTORY .
SHA Conference: The Black Report – 25 Years On Manchester Friday 9th September 2005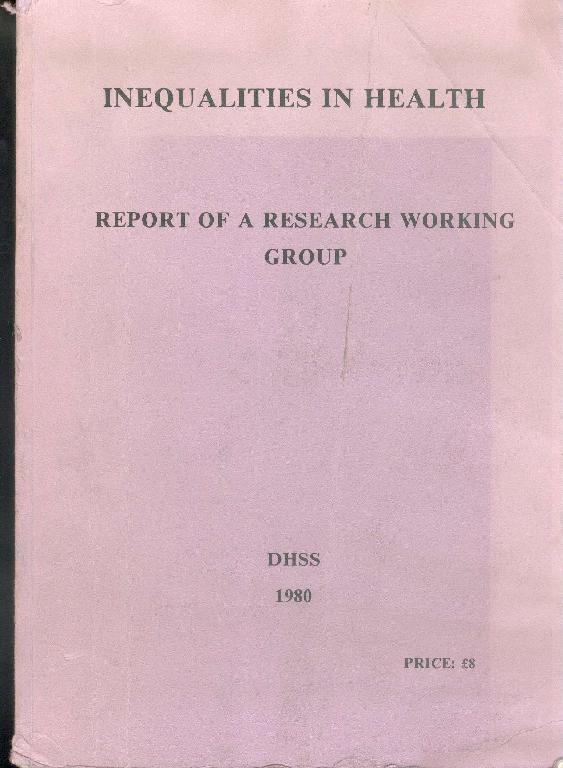 The Socialist Health Association has one of about 260 duplicated copies. An updated version was later produced by Penguin books but this is a scanned copy of the original text which was produced on stencils. An attempt has been made to correct typographical errors, which are many, and some of the footnotes have been inserted into the text. The graphs are largely as they appear in the original.
Contents
INTRODUCTION INEQUALITIES AND HEALTH
CHAPTER 1 CONCEPTS OF HEALTH AND INEQUALITY
Approaches within medicine, epidemiology and sociology
The choice of indicators of health and ill-health – Concepts of inequality and social class
The problems of choosing indicators of inequality
Conclusion
CHAPTER 2 THE EVIDENCE OF INEQUALITIES IN HEALTH
The pattern of health inequality in contemporary Britain
Mortality and morbidity: the sources of data
Occupational class and morbidity through the life cycle
Conclusion
CHAPTER 3 TRENDS IN INEQUALITY OF HEALTH
Decline in death rates
Morbidity
Inequalities and distribution
Conclusion
CHAPTER 4 THE EVIDENCE FOR INEQUALITY IN HEALTH SERVICE AVAILABILITY AND USE
Preventive and promotive services
Conclusion
CHAPTER 5 HEALTH INEQUALITIES: INTERNATIONAL COMPARISONS
Levels of health and changes over time
Inequalities in health USA – the reduction of inequality?
Conclusions
Chapter 6 EXPLANATION OF HEALTH INEQUALITIES
Theoretical approaches
Towards explanation of the evidence of health inequalities
Conclusions
CHAPTER 7 THE NEED FOR ADDITIONAL INFORMATION AND RESEARCH
sources of information relating to health and need for care
Sources of information relating to use of health services
Further recommendations
Conclusion and recommendations
CHAPTER 8 POLICIES TO REDUCE INEQUALITIES OF HEALTH (1) PLANNING THE HEALTH AND PERSONAL SOCIAL SERVICES TO REDUCE INEQUALITIES: AND A DISTRICT ACTION PROGRAM
The definition of objectives and principles
Planning
Resource allocation
A district action programme
A programme for 10 special areas
Conclusion and Summary of recommendations
CHAPTER 9 POLICIES TO REDUCE HEALTH INEQUALITIES; (2) A WIDER STRATEGY
A A policy for families and children
Child benefit
Infant care allowance
Pre-school education and day care
Nutrition – school milk and meals
Accidents to children
Policy for families and children – costs and a possible source of revenue
B Policy measures affecting households without as well as with children
A comprehensive disablement allowance
Working conditions
Housing
C Towards a coordinated policy in Government for reducing health inequalities
Conclusion and summary of recommendations
SUMMARY OF REPORT AND RECOMMENDATIONS
APPENDICES (not reproduced)
APPENDIX I Use of the General Household Survey for the analysis of inequalities in Health.
APPENDIX 2 Gateshead AHA – Health Service Problems 1979
APPENDIX 3 Plans and Priorities for Tower Hamlets1979-1984.
APPENDIX 4 Deaths 1970-72 in Classes IV and V and deaths if rates for Class I had applied (1970-72) England and Wales
APPENDIX 5 General Household Survey Tables
APPENDIX 6 Wealth and Income Tables
APPENDIX 7 The Build up of a revenue target
APPENDIX 8 Resource allocation: Secretary of State's instructions to RHAs. Letters of Feb 1977 and 1978
APPENDIX 9 Illustration of variation in Mortality and hospital admission in relation to occupational class.